Analyzing Business Charts 5-hour Workshop. First presented in English by Georgia Stathis, then translated by Victor Rosillo.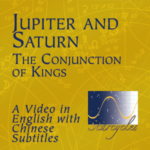 Jupiter and Saturn conjoin every 19+ years. Georgia speaks about this in English, with Chinese subtitles in this free video.
With Greece in the throes of economic difficulties, Stathis shared her insights into the new possibilities that can help individuals improve their lives.