January 21, 2023, 2pm EST on Zoom
Turning the Wheel: A New Look at an Old Image
$17 SMARRT members / $20 non-members
Turning the wheel (derivative houses) is an old technique offering further insights into the horoscope. By putting the designated house on the Ascendant and reading it as an additional chart, you capture insights often missed. Georgia Stathis presents this material in her classic entertaining yet informative style with many illustrations showing exactly how this is done.
Registration: contact smarrtmeet@gmail.com
The cut-off for sign up is 6pm EST on Friday, January 20.
April-May 2023 (see dates below)
Taurus Lunations at AstrologyHub
Georgia will be teaching for Astrologyhub.com as one of the Inner Circle teachers.
Georgia's presentations for the month of the Taurus Lunations:
New Moon Broadcast: Monday April 17, 2023 at 4 pm PT/ 7 pm ET
New Moon Intention Setting Ceremony April 20, 2023 2 pm PT/ 5 pm ET
Full Moon Broadcast: Thursday, May 4, 2023 4 pm PT/ 7 pm ET
For more information go to www.astrologyhub.com
Coming in 2023
January 21: Michigan SMARRT/Ann Arbor NCGR
February 17: Greece for Astropaedia
March 17: Greece for Astropaedia
April 21 to April 23: OPA Online conference
More details tba!
Georgia's Synodic Cycles book now available: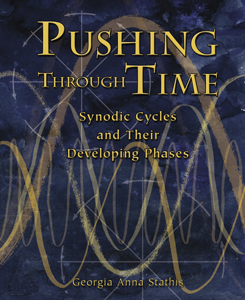 Pushing Through Time: Synodic Cycles and Their Developing Phases
30 Years of research!
20 Years of writing!
7 Years to distill the information!
"Pushing Through Time is full of interpretation gems that can only come from years of experience. It is both thoughtful and thought-provoking. I highly recommend it!"
Linea Van Horn, Certified Astrologer