ISAR 2020
September 12, 2020
Here is the corrected global table slide and the charts for that slide within the context of the larger Jupiter/Saturn presentation on Future Trends at ISAR. Click here to download the pdf.

Breaking Down the Borders online conference
November 6-8, 2020
Georgia Stathis speaks on Saturday, November 7, 2020 from 4:30 – 6:00 PM Pacific

Solar arcs are a very old technique, sometimes overlooked when we look at different progression techniques. The Solar Arc is very slow, moving approximately 1 degree per year the speed of the Solar Sun, moving the entire chart forward with its already pre-existing aspect formations. The key thing with Solar Arcs is that they activate about six months before creating an aspect to the original natal chart. They are uncanny particularly when it comes to someone's 'life transformations' since the Solar Arc is about life transitions and personal enlightenment.
Registration: open now at https://astrologyconference.org/ You can register for specific lectures or the entire weekend. You will receive a copy of the video lectures that you purchased. Georgia's lecture is here.
Watch the interview: click here to see Chris Turner interviewing Georgia about personal astrology, Modern astrology, historical preservation, and more!
Georgia's new book now available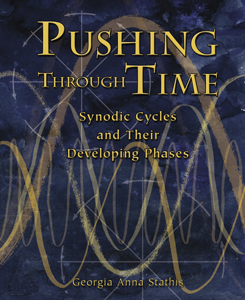 Pushing Through Time: Synodic Cycles and Their Developing Phases
30 Years of research!
20 Years of writing!
7 Years to distill the information!
"Pushing Through Time is full of interpretation gems that can only come from years of experience. It is both thoughtful and thought-provoking. I highly recommend it!"
Linea Van Horn, Certified Astrologer