Astrohub 3-Part Online Workshop
Schedule for registration:
Judith Hill. Workshop on Medical Astrology: Wednesday, September 6 at 4 PM Pacific Time
Mychal Bryan. Workshop on Fulfillment: Tuesday, September 12 at 4 PM Pacific Time
Georgia Stathis. Workshop on Decoding Your Chart: Overcome Your Blocks to Abundance. Tuesday, September 19 at 4 PM Pacific Time
Astrological Society of Connecticut
Thursday, November 16 at 7 pm EST and 4 pm PST,
Online and In-Person
What to Expect—What to Forget:
The Upcoming Jupiter Uranus Conjunction of 2024.
Every 13 to 14 years Jupiter & Uranus conjunct, creating a new 'innovation' cycle in whatever part of your chart it is taking place. Jupiter brings opportunities along with  overexpansion and Uranus wakes us up opening up our imaginations to  'out of the box' possibilities supported by Jupiter. Georgia Stathis shows both historically and personally how this alignment affects us.
Registration: https://myasc.org/season-line-up/ (waiting for 2023-24 season line-up, check back!)
$40 for members, $55 for non-members. Please specify Zoom or in-person.
Location: Moving Body Resources, 112 West 27th Street – 4th Floor, NYC
Masks are suggested, but not mandatory.

NCGR Florida Atlantic Chapter
January 20, 2024, 10:00am
Online and In-Person
Bad Ass Delineation
You have one hour to prepare, perhaps more, but your client needs a very thorough session looking at what is happening now – in their life — Georgia Stathis will show you exactly the process she uses to define a chart prior to the client and she meeting in person. Included are the chart patterns, interpretation of phases, eclipse hits, solar arcs and a portion of the secondary progression. This is a workshop designed for the working astrologer who is doing this professionally or who wishes to become professional working with the general public.
Registration: https://astrologyfla.com/event/georgia-stathis-bad-ass-delineation/
$55 either by Zoom or in-person.
Location: Nova Southeastern University – School of Business – Rm 3035
3301 College Avenue, H. Wayne Huizenga School Of Business And Entrepreneurship, Davie, FL 33314
Georgia's Synodic Cycles book now available: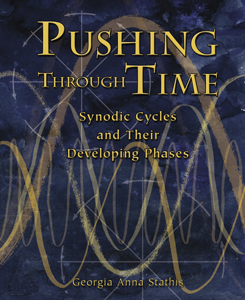 Pushing Through Time: Synodic Cycles and Their Developing Phases
30 Years of research!
20 Years of writing!
7 Years to distill the information!
"Pushing Through Time is full of interpretation gems that can only come from years of experience. It is both thoughtful and thought-provoking. I highly recommend it!"
Linea Van Horn, Certified Astrologer