Sat. June 3, 2023, In-Person & Online
11:45 am–4:15 pm EST
NCGR Annual Spring Conference
Health, Wealth, & Happiness:
The Astrology of Well-Being
Every spring, NCGR-NYC offers a conference with different views or topics on a central theme. Given the state of the world as well as the heavens, we thought the theme of well-being would be helpful for astrologers and students from various perspectives, namely, health, wealth and happiness.
These three astrologers will present their perspectives based on their many years of experience,
from their practices with clients, their studies and observations.
Judith Hill
Georgia Stathis
John Marchesella
Georgia Stathis presents Financial Health & Wellness: What You Value Is What You Get
Financial health has to do with, first, how much you value yourself, identifying what you value, and then working with what you find in your natal chart. Identifying fears, where they come from, is another part of financial health, and being willing to set aside ingrained judgments, while putting a structure to those things that consistently challenge the parts of your existence that keep tripping you up. Not everyone's definition of financial health is the same.
In this class, Georgia Stathis presents some ideas, perhaps, a more Uranian perspective that shakes you out of calcified financial structures that no longer work in this part of your evolutionary journey.
Registration: https://www.astrologynyc.org/
$40 for members, $55 for non-members. Please specify Zoom or in-person.
Location: Moving Body Resources, 112 West 27th Street – 4th Floor, NYC
Masks are suggested, but not mandatory.
Also Coming in 2023
April–June weekly: Teaching for New Moon School in Beijing online.
More details tba!
Georgia's Synodic Cycles book now available: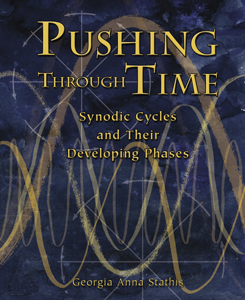 Pushing Through Time: Synodic Cycles and Their Developing Phases
30 Years of research!
20 Years of writing!
7 Years to distill the information!
"Pushing Through Time is full of interpretation gems that can only come from years of experience. It is both thoughtful and thought-provoking. I highly recommend it!"
Linea Van Horn, Certified Astrologer