Eclipsed Solstice quarterly update with the C*I*A Agents
June 16, 2020

Eclipsed Solstice quarterly update with Bill Sarubbi/Meridian, Georgia Stathis. Adam Gainsburg and Julija Simas
Watch Recording: click here
ISAR 2020
September 9-14, 2020
Seed States: Synodic Cycles, Friday September 11 at 9am.
Every year we have fast-moving planets conjoining like Mercury/Saturn, or, Venus/Jupiter. They seed our charts with something new. There are much longer cycles like the upcoming Jupiter/Saturn in late 2020 or, the Jupiter/Neptune of 2022 or the Jupiter/Uranus of 2024. We also are finishing some cycles. So, where does this leave you? What is your plan? Stathis gleans insights from her new book Pushing through Time in this entertaining yet educational lecture.
Turning the Wheel: Derivative Houses, Sunday September 13 at 9am.
One natal chart is a treasure trove of juicy information that we often fail to see. Each house represents different people. Placing each house at the Ascendant position, gives an accurate overview of the current conditions of the individuals or rulerships designated by that house. In other words, it gives 'them' a chart. Like adjusting the lens of a telescope, this technique offers another perspective using one natal chart.
Registration: Click here for more info.

Breaking Down the Borders online conference
November 6-8, 2020
Georgia Stathis speaks on Saturday, November 7, 2020 from 4:30 – 6:00 PM Pacific

Solar arcs are a very old technique, sometimes overlooked when we look at different progression techniques. The Solar Arc is very slow, moving approximately 1 degree per year the speed of the Solar Sun, moving the entire chart forward with its already pre-existing aspect formations. The key thing with Solar Arcs is that they activate about six months before creating an aspect to the original natal chart. They are uncanny particularly when it comes to someone's 'life transformations' since the Solar Arc is about life transitions and personal enlightenment.
Registration: open now at https://astrologyconference.org/ You can register for specific lectures or the entire weekend. You will receive a copy of the video lectures that you purchased.
Georgia's new book now available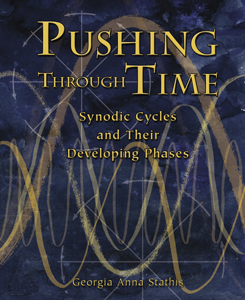 Pushing Through Time: Synodic Cycles and Their Developing Phases
30 Years of research!
20 Years of writing!
7 Years to distill the information!
"Pushing Through Time is full of interpretation gems that can only come from years of experience. It is both thoughtful and thought-provoking. I highly recommend it!"
Linea Van Horn, Certified Astrologer