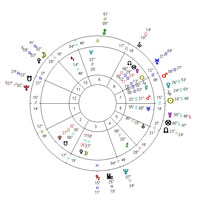 Georgia will be taking on a few clients over the summer while she works on designing courses.
First, however, she will need all the details to do your chart. Each session includes an hour of preparation time before you talk. In addition to your (or your business's) birth data, she will need three very short and sweet bullet points about your main concerns. This helps you focus on the issues at hand.
She does transits, eclipses, secondary progressions, and solar arcs when she looks at your chart.
If you work for yourself and talk about your business, she has an MBA and can be considered a consultant. Deduct the service.
Once you've booked the session with the site, Georgia will email you to get your information and find a meeting time that works for you both. She sees clients on Zoom between Mondays and Fridays. She will send the Zoom link a day or two before we meet so you don't lose it. She will be at Pacific time at that time.
Please note: if Paypal is a problem for you, please email stathis.georgia@gmail.com to book with Zelle or pay by check.