Now available to download!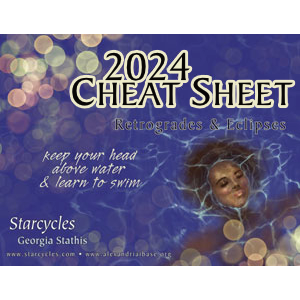 Color Coded for easy identification: Georgia Stathis' unique color-coded planetary movements are all on one page for you to keep on your phone, your computer, or, to print out and keep at your workstation so you can see immediately where a planet goes retrograde and when it finally goes direct.
ALSO: This annual Cheat Sheet also includes a forecast for each sign of the zodiac and if you know your Ascendant, also known as the Rising Sign, you get a double dose of brief but pointed possibilities for 2024. If you don't know your Ascendant, Georgia has also provided a quick little table to help you approximate your Ascendant so you can take full advantage of this amazing package.
Georgia Stathis has been an astrologer for almost fifty years and her clients have been primarily non-astrologers. Her "Astrology in English" tool has come out of collaborating with people who don't know astrology but want to know. This is a fantastic feature that works for both non-astrologers as well as astrologers.
2024 is only $8.50! Where can you get all this information in such an affordable packet? You can't. Once you order, you will receive a username and password to download this (CHECK SPAM for this if you don't see it in your email).
Eclipses and their Activity Cycles: The other unique feature of the Cheat Sheet is that Georgia shows where the eclipses are (the dates) and the more important 87 to 90 days after the eclipses, which are designated as firecrackers in this easy-to-use format. Those 87–90-day features are amazing. Witness the events of August 8 to 15 of 2022, which was a precise 90-days after the May 15 TOTAL Lunar Eclipse in Scorpio and Taurus. Look at the news of that week: Mar-A-Lago, Salmon Rushdie, and The Inflation Reduction Act finally passed. A Lot! The big TOTAL Solar Eclipse of April 20, 2023 was at 29° Aries 55′ and the Lunar Eclipse was on May 5, 2023. 90 days after that from July 17 to early August 2023 we saw news of several indictments for former political leader Trump, Russian spies inside the Ukrainian government identified, and North Korea launched another ballistic missile (the eclipse was in Aries, ruled by Mars, which is military). There were many other things that happened in the news, these being just a few.These 90-day times after the eclipses are often when things become known after the darkness of the eclipse. What major changes revealed themselves to you during this time?
A portion of your purchase price goes towards the development of The Alexandria iBase Project at www.alexandriaibase.org
Eastern Time Zone In 2024: We are back to using the Eastern Time Zone for this year.
Georgia puts these dates in her regular appointment book as well so that she can be ready for certain planetary shifts and you can, too. People love this handy dandy file that you can carry as a pdf in your phone, tablet, or computer.