Astrological education from a practical perspective.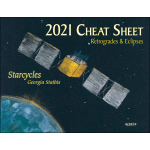 Starcycles is entering its 29thyear of focused intention toward sharing astrological information. We started the site in the early 1990s, about 12 years after I started my practice. I am amazed at how fast this time has passed. As Starcycles approaches its first Saturn return, the theme of Saturn fits in with our decision to concentrate on what is essential to this website. A 'less is more' approach is the theme with Saturn (and many other planets) presently in Capricorn, heading into the 'great' Capricorn series of planetary alignments in 2020.
Free Newsletter
We deeply appreciate our loyal Starcycles community. The most efficient way for us to share the latest astrological happenings is through the Starcycles newsletter.
Add your name to our mailing list!
Downloads
I continually am lecturing or teaching, whether it is online or before a live audience. Many of my live presentations have transitioned into online teaching but my catalogue of classes contains recorded live-lectures intended to increase your astro-knowledge and spark your ideas. You can find them at the Shop tab above or click any category below.
Consultations
At this time, I offer limited phone appointments because of my focus on writing and research. If you are interested in a personal consultation, click here for more information.
Most of my work now is referral, so, please let me know who suggested you contact me in this community of support for almost 30 years!
AIP (The Alexandria Library/Catalogue Project)
As many of you know, I am the chair of the Alexandria iBase Library/Catalogue Project (AIP). Our mission statement centers on identifying locations of astrological literature globally and to include both public and private collections into one resource. Our librarians have located and catalogued some 10,000 books, and are getting the catalogues from large organizations- America Federation of Astrologers (AFA) and the Astrological Association (AA) in the UK. We even have some copyright free materials at the website and hope that you, astrologers, will let us upload your research papers and allow them to be preserved for future generations.