Astrological education from a practical perspective.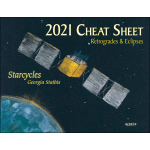 I love teaching and many of you have seen me speak at various international conferences throughout the years and I thank you. Things have, of course changed over the course of this last year and, fortunately, I have many opportunities teaching ONLINE for those who would like to learn technique, forecasting, and just anything that has to do with Modern Astrology, Starcycles is the place to go. If you go to our Events page, you will always see the latest online classes that I am teaching and 2021 is remarkably diverse. There are lectures in the United States as well as Greece, Australia, China, and parts unknown!
There is our wonderful 2021 Cheat Sheet available, and there are also many recorded lectures, some of which are audio recordings and others which are video recordings that you can download into your computer in our Shop.
More recordings are added regularly, so if you can't attend the event live, some of them will be available for sale down the road in the Shop section of our site. In that shop tab are also some FREE downloads, but there is also our FREE occasional newsletter as well as the FREE weekly forecasts at the Home page. Lots going on here in 2021 and I hope to connect with you going forward into what should be an exciting and fun year. What I really would love to do is write a little more – and am thinking of putting together collections of writings throughout the years, but, as I was always taught, one step at a time. Best wishes and good fortune in 2021.