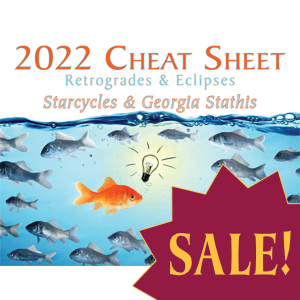 The 2022 Starcycles Cheat Sheet is now available to download!
The color-coded planetary movements are a fantastic feature as always and this year we also have an extended essay about the changes that are happening for all the signs of the zodiac along with a little added legend to find your rising sign and get extra information as well. There's more information in this year's publication and we're still keeping our price down in light of the recent economic changes.
A portion of your purchase price goes towards the development of The Alexandria iBase Project which is an online resource for finding astrological materials by subject.
The most important feature of this graphic is that you can 'see' very clearly when such things as Mercury (communication) goes retrograde and direct. It is all color coded with the dates and times listed in chronological order below. In 2022 we are using the Pacific Time Zone and will return to Eastern Time Zone next year.
Georgia puts these dates in her regular appointment book as well so that she can be ready for certain planetary shifts and you can, too. People love this handy dandy file that you can carry as a pdf in your phone, tablet or computer. Order today!